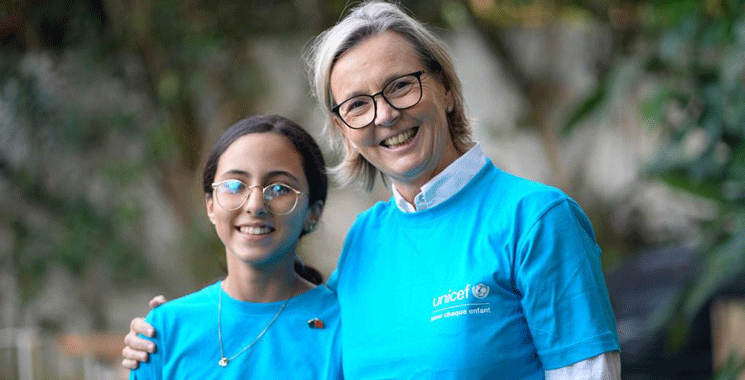 The European Union in Morocco is mobilizing to celebrate Universal Children's Day, which is celebrated on November 20 every year.
Thus, the European Union joins UNICEF's call for the inclusion and promotion of equal opportunities for all children and their protection from all forms of discrimination. A commitment that lies at the heart of the partnership between Morocco and the European Union. The European Union in Morocco is responding to UNICEF Morocco's call with two main actions. Let's first mention "The Kids Take Charge", in which Aya Omous, a 12-year-old student from Casablanca, is invited to play alongside Patricia Lemapart-Koussac the role of the EU Ambassador to Morocco after midday. Thus, the young girl exchanged with the ambassadors of the member states of the European Union and youth on the topic of climate change and environmental protection. "An unprecedented measure to allow children's voices to express themselves and to be heard on topics that concern them," we can report from the European Union in Morocco. The second action taken is "Go Blue".
It consists of the blue illumination of the European Union headquarters in Morocco on November 20 and 21. "An important symbolism to show commitment to children's rights," the European Union in Morocco defines in its communication. It should be noted that in March 2021, the latter adopted the first global strategy on children's rights, in addition to a proposal to recommend the creation of a European guarantee for children, in order to promote equal opportunities for children at risk. from poverty or social exclusion.
The partnership between Morocco and the European Union is a permanent part of this comprehensive and preventive perspective, in the best interests of the child. This is a cross-cutting issue in various programmes, particularly in the immigration and justice sector and with civil society.