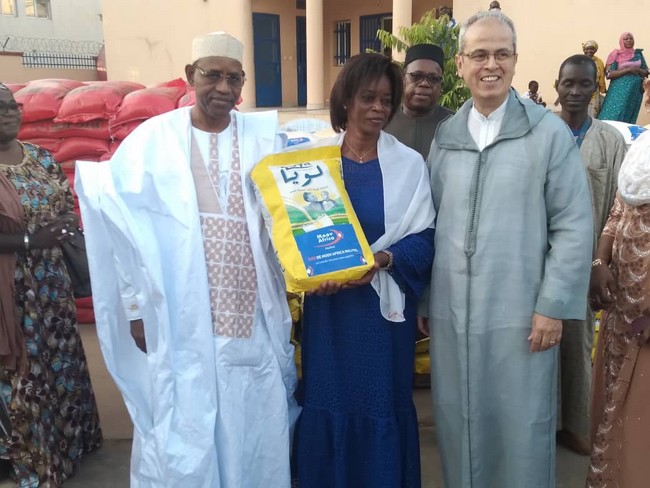 As part of the 27th edition of the Month of Solidarity and Anti-Exclusion, the General Administration of Moov Africa Malitel has made significant donations. This was last November 16 in the technical department in the presence of two members of the government, the managing director of Moov Africa Malitel, the head of the Islamic Supreme Council, the sponsor of the month of solidarity.
And the honor went to the mayor of the fourth municipality in the Bamako region for welcoming the help.
The Managing Director of Moov Africa Malitel put the event into context by emphasizing that the Month of Solidarity refers to the qualities and values ​​he discovered in Mali. For the general manager of the current Mali telephone operator, this ceremony is a reaffirmation of Moov Africa Malitel's corporate citizenship status but also of its availability and proximity to vulnerable groups. "Therefore, I am honored to announce that Moov Africa Malitel has decided to donate food and medical equipment to health buildings, to donate agricultural equipment to women market gardeners, to offer classrooms and wells to communities," he said.
Through this gesture, the telephone company hopes to contribute to helping patients benefit from better health care, pupils gaining in-depth knowledge and benefiting orphans from more warmth and humanity.
On behalf of the beneficiaries, the Mayor of Nyantasu Municipality, Boling Dembele, thanked the General Administration of Move Africa Maletel. He pledged that the material received would be used efficiently.
The Minister Delegate to the Minister of Health and Social Development in charge of Humanitarian Action, Solidarity, Refugees and Displaced Persons, Mr. For Minister Mauve Africa Maletel, with this act he wipes away the tears of many orphans and widows but also expresses his commitment to the cause of the vulnerable. He called on other companies to follow in the footsteps of the donor today.
Benafu Dembele, intern
Comments via Facebook: